How to remove Cat Urine Odors and Stains from a Mattress.
Below are the basics.
Absorb as much cat urine from the mattress as you can using wet/dry vacuum cleaner or you can use Paper towels
Use Vinegar to Neutralize Cat Urine Odor
Remove Cat Urine Smell using Baking Soda and Hydrogen Peroxide
Ingredients you need to Remove Cat Urine Smells and Stains
White Vinegar
Baking Soda
3% Hydrogen Peroxide
Dishwashing Detergent (Dish Soap)


Instructions How to Clean Cat Urine from Your Mattress or Sofa

Step 1.
If the urine is recent, blot up as much of the cat urine as you can using paper towels.
Apply plenty of pressure to reach the dampness deep down.
Stand on the paper towels for more pressure if necessary.
If you own a wet/dry vacuum cleaner extract as much of the moisture as you can.
If the cat urine has already dried proceed to step two.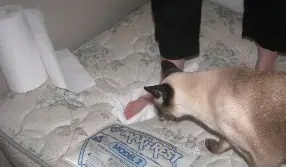 Apply pressure by standing on paper towels.
Cat supervision optional.
Step 2.
Mix a solution of 50% vinegar and 50% water in a jug or other container. Pour a small amount of this solution over the area of cat urine.
Approximately 50mls.
Then begin blotting using Paper Towels (as described above to soak up this solution)
Or use a wet/dry vacuum cleaner.
Step 3.
Sprinkle a good handful of baking soda over the area.
Step 4.
Mix a quarter of a cup of 3% (10 Vol) hydrogen peroxide with a teaspoon of dishwashing detergent and drizzle it over the area where you have sprinkled the baking powder and work it in using your fingers or use a brush.
Allow fifteen minutes for the solution to work and then begin blotting again or use wet/dry vacuum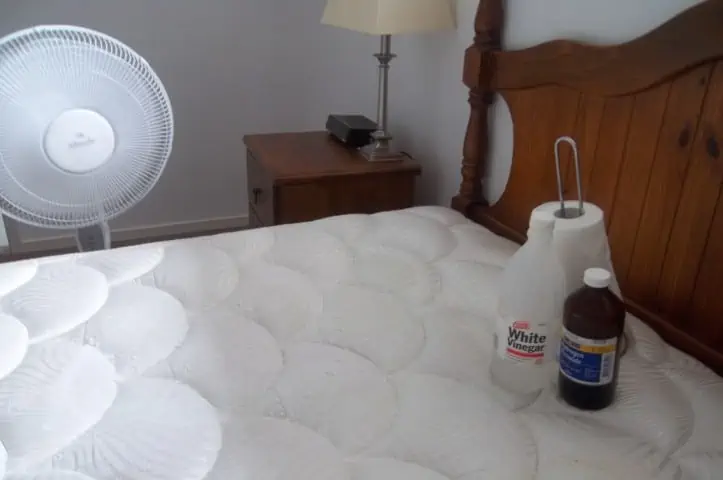 Step 5.
The mattress must now be left to dry thoroughly. A good indication is when the baking soda feels completely dry.
Next vacuum up the dry baking soda thoroughly. The baking soda absorbs the odor and urine. (Use a hard bristled brush to loosen up the baking soda if necessary)
If you live in a sunny climate you may be able to put the mattress out in the sun to dry.
You can also assist the drying process by using a fan or heater. Another idea from one of our readers is to use a hair dryer.
That's all there is to it. It's as easy as that.
3% (10 Vol)

If you don't have hydrogen peroxide on hand you could substitute it in an emergency for a spray laundry stain remover.
Check the bottle. If it says 'Oxy' anywhere on the label then it probably contains hydrogen peroxide.
Some examples of products are Preen, Sard, OxiClean etc.

To deter your cat from urinating on the bed purchase a plastic tarp and drape it over the bed. Your cat will not like the feel of it and hopefully it will discourage it from peeing on the bed. If it doesn't discourage then at least it saves your bed linen and mattress from cat urine.
Removal of Cat Urine Odors and Stains from a Mattress: Reviews & Testimonials
I have to admit that my mattress is quite old and I was able to attack it with the gung-ho approach of 'Nothing ventured, nothing gained'. I really had nothing to lose as either I cleaned it effectively or I bought a new mattress. I'm pleased to report that it worked for me. 
—————
I am not one who normally posts comments, good or bad, about a product, process, etc. But I do feel compelled to add my testimonial for your process for removing cat urine odors and stains — it just simply works.


—————
We came home from vacation last night to find that one of our kitties peed right in the middle of the pillow top bed — peed a lot! I found your article and thought I might as well try it — I was a bit skeptical, but what did I have to lose, right? 
—————
I put it to work this morning and — voila — no odors and my mattress is again snow white! Thank you!!


—————
I just wanted to say a BIG THANK YOU for your article on getting cat urine out of mattresses and carpets.
One word…WOW!!!! It worked like a charm, thanks a million!! 
—————-
WOW!!!!!!Thank you so much! Not to be repetitive but this is the only treatment that I have ever used that has worked! Someone peed on our new mattress while we were on vacation and it had completely dried by the time we got home. Of course the enzyme cleaners did not work but this did! I had all the ingredients, followed the directions and used a small heater to dry. In less than a day the odor was completely gone. I cannot thank you enough for saving us $1500.00 for a new mattress. 
—————-
I was very skeptical because I didn't believe I would ever be totally rid of the obnoxious odor from our cat urinating on our new mattress. I was hoping for the best but expecting the worst. I was quite surprised when it completely removed every trace of stain and odor. That was 6 months ago and still today no trace of odor. It truly truly works!! Thank you!! 
—————-
My older female cat stresses and pees on my bed. This completely worked getting the odor & stain out of my mattress. Thanks! 
——————
Tried this last night after discovering "the smell" on my couch yesterday. It works! Thank you so much! My only regret is I did not find this sooner, as the commercial stain/smell removers have bleached out the side of the couch where I tried to remove urine before. From now on I will be using this recipe… No smell, no stain, no bleach out. Thanks again! 
——————
I was VERY disappointed in my big male cat who decided to urinate on my boyfriend's brand new futon, which is his Christmas present this year! Being upset I considered just cutting my losses and shelling out the money for a new one. I decided to conduct some research online before spending the money – and this recipe works!!! Honest! The stained area was fairly large (about a six foot square) and I was skeptical but I followed the recipe, walked all over the area and once dried, it smells great!! No more urine smell!! Thank you for this valuable information and I'm going to recommend it!! 
—————–
Thank you thank you thank you!!! I am the owner of two male kittens that i thought had basically destroyed an expensive pillow top bed and a custom sofa. I had lost hope until trying this and it really worked. I am grateful that i did not have to spend a ton of money buying something questionable and I was able to address it on my time frames. You're amazing…